Marie Lemay, the Deputy Minister responsible for overseeing the implementation of Phoenix, provided another update to all public servants last week, saying that the timeline for resolving pay issues would run until the end of October.
At the same time, public servants took to social media to demand accountability, and compensation advisors reiterated that neither senior management, nor unions listened years ago when they advised that Phoenix wouldn't work, nor did unions protect those who were faced with losing their jobs.
In last week's update, there was news that a new call centre has been established in Toronto with 100 agents and more to come.
Up until now, public servants have not been able to reach anyone at the pay centre in Miramichi with callers waiting endlessly on hold, getting a busy signal or being hung up on.
Public Works says this new call centre will ensure that all employees are able to speak to someone with a minimal wait time, while reducing the burden at Miramichi and reducing the number of dropped calls.
In one day, the Toronto call centre received 2,500 calls with Public Works maintaining that no calls were dropped and the average wait time was under four minutes.
Public Works says that call centre agents there will be able to provide updates on when pay requests will be addressed and how long they will take to be resolved. Public servants with more complex pay questions will be referred to a pay advisor using a case status form.
A compensation advisor in the pay centre will then call back employees reporting issues in priority 1 and 2 groups within 48 hours.
Public Works shared this infographic, outlining the types of priority cases and their timelines: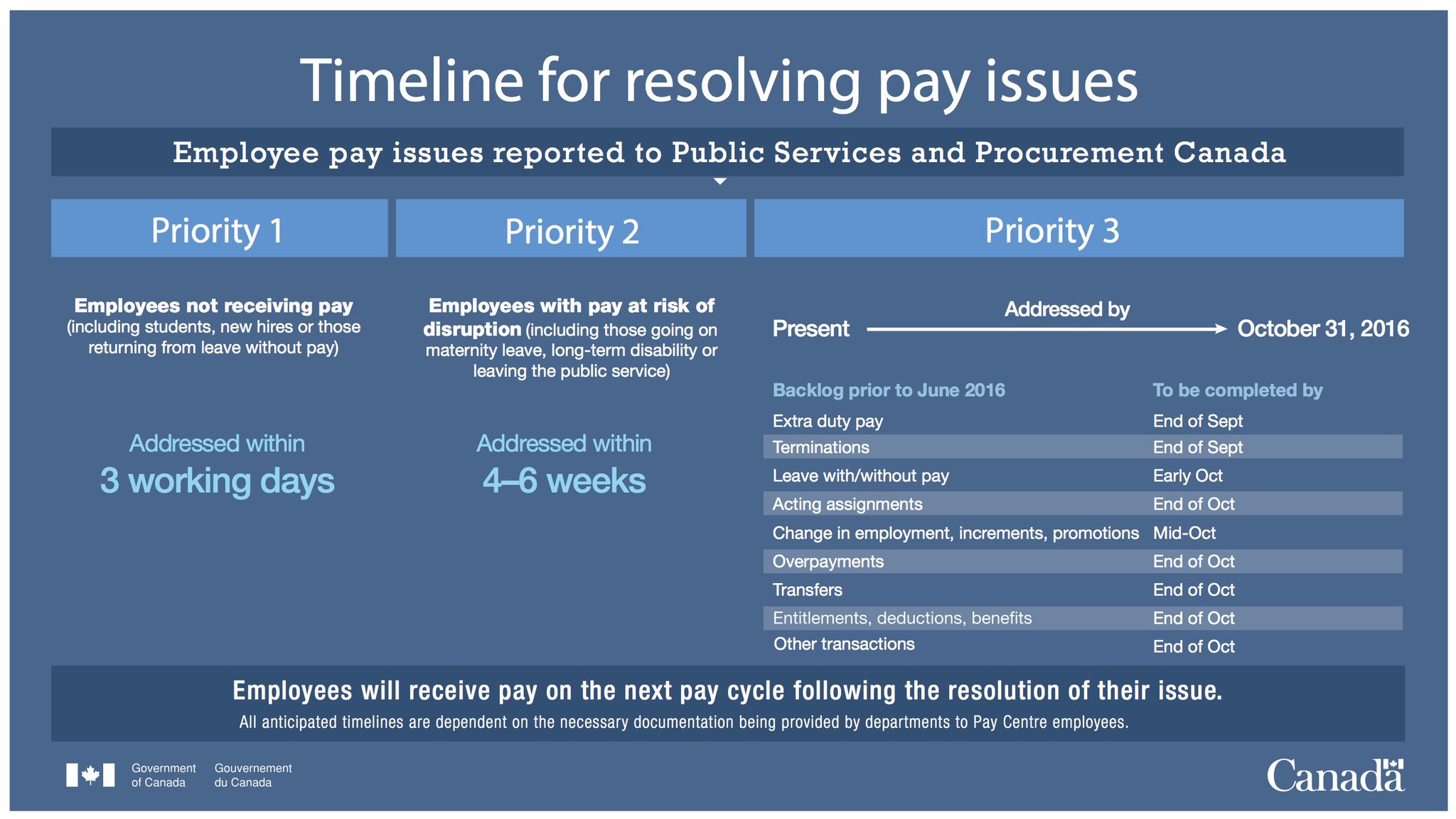 Click to enlarge.
Public Works is also working on:
enhanced tools and additional training for both employees and managers in PWGSC and other departments;

the first set of tools will include job aids, tutorials and webcast events made broadly available across the public service in the coming weeks;

developing additional mandatory training with the Canada School of Public Service to help employees and managers;
a toolkit for managers with reference materials, such as checklists and tips, in an effort to help employees who are experiencing pay issues. The toolkit will be provided to managers through departmental human resources branches;
proceeding over the next few months with planned enhancements to Phoenix, which will increase automation, thereby reducing the number of manual steps required and speeding up the timelines; and
exploring options with Treasury Board and unions to support employees who have faced financial hardship because of inaccurate or missing pay. The Government will set up a claims process to reimburse employees for the out-of-pocket expenses incurred. This could include penalties for missed payments and insufficient fund charges. Employees are asked to keep track of the expenses incurred. Once the process is set up, instructions will be provided on how to submit claims for reimbursement.
Lastly, it was revealed that additional privacy breaches have occurred; four employees were able to access the names and identification numbers (PRIs) of employees from other departments.
The Deputy Minister said the Office of the Privacy Commissioner has been informed.
Video
Watch CBC's video of last week's technical briefing which include questions and answers here:
Other Links